Cheap traffic, deep loyalty? Not so much.
The past 18 months have been tricky selling pet products online.
Traffic is more expensive. Customers are harder to target. And they've got bigger expectations than ever before. On top of this, the explosion of scrappy new pet brands trying to take your customers is frustrating. Oh, and your suppliers have delayed your shipments.
Again.
So what can you do?
You're hearing more and more about the importance of 'Customer Lifetime Value'. But what does it mean? Yes, the snappy LinkedIn posts look great, but what does it really mean? Importantly, will it actually help you grow?
Like this...
You focus on getting your existing customers to spend more often, and outspend your competitors in the right places.
You're clear on the profit you'll make from each customer and how long they'll stay with you.
You then make easier decisions about investment in the business.
You discover which customers waste your marketing budget and time.
You spend your cash more effectively.
You leave the messy, nitty gritty, to us.
You see how focusing on Customer Lifetime Value helps you hit your sales targets now and in the future.
You focus on the things that really excite you when it comes to running the business.
You work with a team who shows you exactly what needs to change with your Shopify store. We make the changes you really need to increase your profitability.
Customer Value Optimisation (CVO) for pet brands
Customer Value Optimisation (CVO) with Blend gives you this plan. From the first call, you'll get honest, direct and specific feedback on how you can start hitting your sales targets.
Once we've run your numbers, we'll create a no-nonsense, no-fluff plan to hit a Customer Lifetime Value number within 12 months.
You'll then see what this means for your sales targets this quarter and beyond.
Your Blend team will be at your side while we improve the experience your customers have before, during and after the sale. No more confusion. No more hit and hope. Just a focus on making the Shopify store bring in more profit from existing customers.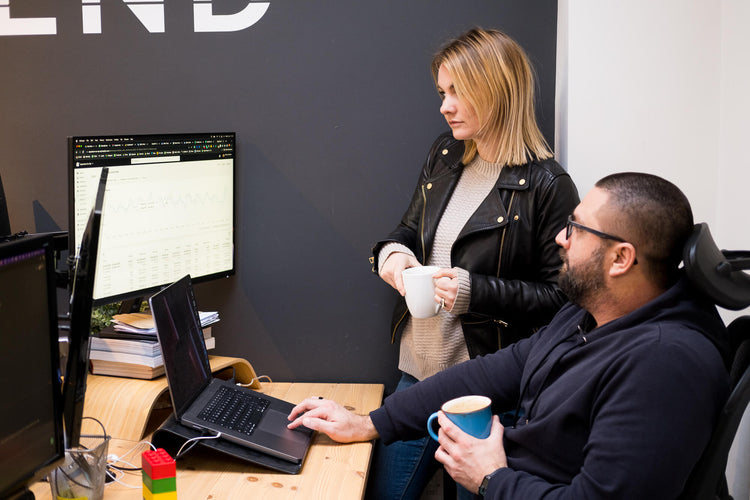 We understand your customers through
Analysing the key numbers to see where your bottom line can be improved
Breaking down your customers by Recency, Frequency and Monetary to sell better
Using post purchase quizzes to understand your customers better
Interviewing your most important customers to understand how and why they use your products
Asking onsite visitors about their experience with your brand
Understanding how different customers interact with your brand, based on when they visit and how.
Understanding how your customers travel through your store.
We improve your Customer Lifetime Value through
Designing how we want your customers to travel through your store.
Using qualitative and quantitative analysis to better meet the needs of your best customers
Designing and developing your store to drive up Customer Lifetime Value.
Creating custom features to meet the speciifc needs of your best customers and visitors like them
Setting up email flows and campaigns to drive up Customer Lifetime Value
Using RFM segmentation to better market to your customers
Using tools like Gorgias to better serve your best customers
What it does for Shopify and Shopify Plus brands
Here's what founders and eCommerce Directors achieved with Blend after 12 months:
70%
Average increase in Revenue over 12 months
37%
Average increase in Average Order Value over 12 months
21%
Average increase in Returning Customer Rate over 12 months
What's it like working with Blend?
Here's what our customers have to say about us
We have been working with Blend for a couple of years now and are always happy with their work. Website theme development, email marketing, site speed testing, and SEO.. Blend is a go to boutique agency for anything Shopify related. We have grown with them from roughly $3M in annual sales to over $10M last year. Genuinely nice people and we highly recommend them.

We use Blend for design work, dev work, strategy and can confidently say that Blend are a great team to work with. Their communication is excellent, always going the extra mile to make things clear and transparent. Always going above and beyond with their work. Often pointing things out that we could improve and sharing their experience at no extra cost.Not only are Blend continuously improving our business and metrics, I personally am learning every-time I speak to them. Can't thank the team enough.

Consistently incredible team to work with - we have used Blend on and off for a number of years and have always been impressed with the speed and quality of their work. Would highly recommend for any ecom business!

Blend are a great email agency who have set up all of our flows, templates and provided us close guidance on our campaign management and list management as well as strategy around all things email growth in Klaviyo. They have been really supportive of the brand through the fast growth we have seen as well as being flexible with suggestions and budgeting of work so we can make choices together. We would recommend you get in touch with Blend if you are looking to improve your email marketing and Ecommerce growth tactics.

Blend has been a fantastic partner for us over the past 15 months, taking us FROM the free Shopify template that I had used to launch the business TO an industry-leading site that is both highly impactful and includes some truly innovative home-designed featured.As other reviewers have mentioned, Blend is universally full of good human beings that are a pleasure to interact with. In terms of working style, they have consistently stepped up to make sure that there work hits a high quality bar, and have increased that bar as the agency has scaled. They've also act as overall business consultants, bringing us ideas and opportunities that wouldn't naturally come to our small team. Look forward to working with the team as we go big in the next few years.

Blend are a very responsive, knowledgeable, and professional agency. They know how to get things done and they always does their best to help.

We've been working with Blend for well over a year now. We were looking for a growth agency with excellent experience in Shopify, and Blend has most certainly fulfilled that need.They have truly been an extension of our digital team over the past months, providing complete re-designs of key areas across our websites, countless optimisations, and ongoing improvements and maintenance.From their development support to design and marketing, they have exceeded expectations and driven great results. They're true digital experts, as well as being the most friendly and supportive team.Special mention to Kelly, who is the loveliest and most helpful human you'll have the pleasure of working with, her ability to ease stress and communicate even the most technical of updates knows no bounds.If you're looking for an honest agency that goes above and beyond, Blend is most certainly the team for you, I can't recommend them highly enough.

Blend is extremely helpful, timely, and professional. They are e-commerce must! They are extremely knowledgeable and I would recommend you have them audit your email marketing.

The Blend team were an absolute delight to work with and far exceeded our most elevated expectations. We knew from our initial call with Peter that we were in for a treat when he took the extra time to fully understand our business, making suggestions to address near term business challenges and reduce the risk of other future challenges. We've gotten heaps of praise since we relaunched our site and our conversion rate is also tracking considerably higher. We look forward to continuing work with Blend.

I have been using Blend Commerce for a few years now. Initially, they performed the new site build on Shopify and have been upgrading and performing maintenance. Blend have been by far the best web development agency I've used (out of 5-6 others). What I like best about Blend is that they go above and beyond just doing the job. They send ideas my way, how things can be improved, best practices and things that have worked well with other clients. Highly recommended!

We started our journey with Blend over several years ago. We were in need of a company who worked with and had great knowledge of Shopify themed stores. Since our initial project, Blend has helped us achieve our website redesign, implementation of our marketing platform Klayvio, and constant website improvements and maintenance. Blend has the most friendliest and professional teams. We highly recommend them.

A positive experience. In the past, I have been disappointed with agencies. Blend is different. G'Anne and Carmen have been handling my account for the creation of a Recommendation Engine and Email flow. They are both friendly, polite, accommodating, responsive, and smart. I am very pleased with the Recommendation Engine design and waiting on the email flows which should be great. There is no ego in this firm, just the desire to please. I will definitely be working with Blend again!

We had an amazing experience working with Blend on a quick Shopify build that we needed to launch in about a month before a major industry event. There were a few non-standard options we needed for our product pricing to work on the platform. These went beyond the "normal" capabilities of Shopify Basic, but Peter and the team at Blend were able to find solutions and quickly implement them. I really liked how in the loop we felt during the whole process. A lot of times a development agency is very communicative when they are selling you on their services, but then the communication gets worse and worse, as they begin the actual development. Blend explained what they were going to do, did it, then even showed us videos after implementation of the new development working as expected. That's just a service level way beyond what most other development agencies ever delivery. I'd recommend anyone looking for a Shopify development...

I could not properly execute my vision without Blend Commerce. Their attention to detail and .liquid programming knowledge is second to none. With regularity, they make the impossible happen. If you ever say "well Shopify can't do that" I'd ask Blend first, because it probably can with the right people involved. I have built three stores with them now over five years, and I won't be going anywhere else.

I'm the founder and owner of NI Candle Supplies - we provide a unique customer experience in the wholesale candle making supplies industry. I commissioned Blend Commerce to create a website that was both user-friendly and appealed to both B2B and B2C users, It was also crucial that it was easy for us to manage, especially with having to juggle the other elements of running my business. As a result of working on the Shopify store setup, we have an amazing website that has received a lot of positive feedback, sales are going well and we are really pleased with how everything has come together. It was great to work with a small, yet knowledgeable team - something that competitors could not necessarily offer us. Adam (who leads the marketing team) has great marketing skills and our blog posts are brilliant! Peter knows the development side inside out! We really appreciated the on-going support following launch, and this was very...

We are a health food and nutrition business based in Germany and decided to work with Blend to help us improve the user experience on our Shopify Plus store. Since working with the Blend team in 2018, the Blend team have provided outstanding work on our theme and developed highly personalised features. These have included optimisation of our product page, navigation and review features.In addition to this, we have also worked with Blend to optimise our sales and marketing funnel. Blend has provided us with a highly responsive design for our cart page and optimised the customer journey to checkout. Blend's work is always to the highest level, and we have been impressed by their ability to quickly resolve issues, even when those issues have required involvement with third parties.We are highly appreciative of the work Blend has completed and their solid communication and support. We are definitely going to continue our relationship with Blend and look forward to our...

A few months ago I was on the hunt for an agency to do our store redesign. My one key goal was that I needed to INCREASE MOBILE CONVERSIONS in a big way.When I began talking to Shopify agencies, I started to stress about the project. I sure most merchants know how that feels.My big fear was that it would be a never-ending project and that I might end up with something worse than what we started with… and I had visions of costs getting out of control for hidden "extras" that I didn't even understand.I had worked with Blend Commerce on a few small projects, and ultimately decided to hire them for the big job! We started with a store wireframing and then a roadmap for our store redesign. Their roadmap service outlined a firm scope of work and fixed cost for the project before I committed to the redesign.My big issue was that our mobile traffic was growing...

Being based in Australia, we were initially sceptical about working with a Shopify development partner so far away. Different countries, different currencies, different cultures.We needn't had worried at all about working with Blend. By means of introduction to the project, Kivari, the label, is an Australian bohemian-luxe fashion brand. Designed for the modern free-spirited bohemian woman. Due to a solid growth period and in order to continue this level of growth, the brand needed a refresh, starting with the website. We were ultimately aiming for a cleaner design to really highlight the amazing photography and garments, and created a better user experience. Crucially, we needed advanced backend controls to improve internal efficiencies as we grew.After working with Blend for a very short period, I found that communication wasn't a problem nor a blocker. I loved the fact that I was able to speak and communicate directly with the lead developer on the job, who also acted as the project manager.We...

U Suck at Golf is a lifestyle apparel company geared toward the average everyday golfer. Our goal is to bring out the lighter side of the game with funny and unique products that every weekend golfer can relate to, while still offering the quality that our customers will trust on and off the course. USAG started out of the passion for embracing this f***ed-up game and to move away from all the seriousness and stigmas that are often associated with the sport. It started with one viral t-shirt and almost a year later here we are with over 10,000 shirts shipped.After the success we saw in the first year, we felt that we were really leaving a lot on the table as we had no experience in building out a site or brand whatsoever. We contacted Blend Commerce in hopes of improving the overall trustworthiness of our website. This included things such as branding, navigation, and optimization for conversions. Blend...